Founder - Eyebetes Foundation
Doctor Nishant Kumar, the man behind the Eyebetes initiative is a Consultant Ophthalmologist, Retina Surgeon and Uveitis Specialist.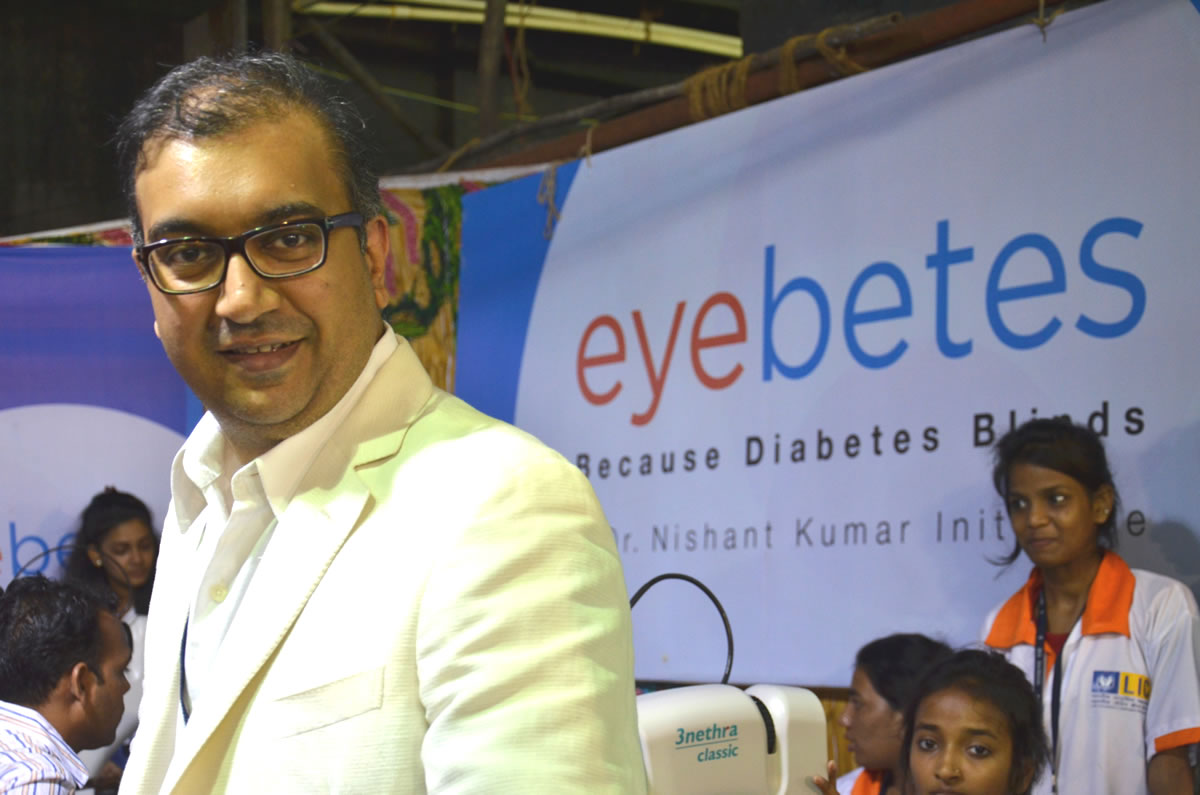 Doctor Nishant Kumar completed his schooling from The Cathedral And John Connon School in Mumbai following which he joined the prestigious Seth G.S. Medical College and King Edward Memorial Hospital for his MBBS degree. Seth G.S. Medical College is consistently rated as one of the best Medical colleges in Mumbai and in India.
For his post-graduate training, Dr. Nishant Kumar left for U.K. immediately after his MBBS. He trained in some of the leading eye centers in U.K. completing the prestigious MRCOphth (London) and FRCPOphth (London) degrees. He is on the Specialist Register of the General Medical Council, UK allowing him to work as a Consultant Ophthalmologist anywhere in the UK.
Dr. Nishant Kumar has completed a number of renowned fellowships in medical retina, surgical retina and uveitis. He is the only eye surgeon in India to have completed internationally renowned fellowship in medical retina, surgical retina and uveitis.
He is trained at some of the best eye institutes in the UK. He completed medical and surgical retinal fellowships at Moorfields Eye Hospital in London, surgical retinal fellowship at Bristol Eye Infirmary and the uveitis fellowship at Moorfields Eye Hospital in London. In addition to the above fellowships he also worked with Dr. Lawrence Yamnuzzi, Dr. Richard Spaite and Dr. Bailey Freund in New York for a year as an international retina fellow.
Prior to returning to India, Doctor Nishant Kumar was a Consultant Ophthalmologist at Moorfields Eye Hospital, London. Moorfields Eye Hospital is one of the oldest and most prestigious eye hospitals in the world and will be completing 200 years in 2019. It is considered the Mecca for eye diseases and is a leading clinical and research centre. Many of the recent innovations including gene therapy, stem cell therapy and artificial vision are products of research at Moorefields Eye Hospital.
Dr. Nishant Kumar is the only Eye Surgeon in India who was a Consultant at the world's most renowned eye hospital – Moorfields Eye Hospital, London
In 2010, Dr. Nishant Kumar was awarded the Fulbright Scholarship. This scholarship is awarded by the U.S. Senate and Fulbright Commission. It is one of the most competitive and prestigious scholarships in the world. He spent a year in New York at the Manhattan Eye and Ear Infirmary researching new technologies for early detection of eye diseases.
So far there have been only two Ophthalmologists selected by the Fulbright Commission to be awarded the Fulbright Scholarship and Dr. Nishant Kumar is one of them.
Since its inception 40 years ago, more than 40 Fulbright Scholars have gone to win the Nobel Prize. Many Fulbright Scholars have gone on to win prestigious prizes like the Pulitzer and there are a number of Heads of State today who have been Fulbright Scholars.
After completing more than 15 years in the UK and US, Dr. Nishant Kumar decided to return to India to try and help people who cannot afford eye care or who have limited access to the technology required for good eye care.
On returning to India, Dr. Nishant Kumar joined the P.D. Hinduja National Hospital & Medical Research Centre and Hinduja Hospital where he has developed the eye department as a centre of excellence. Today Hinduja Hospital, Khar offers the same technology and expertise as any of the leading eye institutes in the world.
Dr. Nishant Kumar is also active in teaching and research. So far he has published 50 peer reviewed articles. He is an associate Editor in a leading peer reviewed Journal, serves as a reviewer for a number of eye journals and is a mentor and teacher for ophthalmic trainees.
Dr. Nishant Kumar has given more than 100 international lectures all across the world.
In 2016 he set up the Eyebetes Foundation which is a charitable initiative involved in raising awareness regarding diabetes and diabetes and blindness. The Foundation provides free screening for diabetes and common blinding eye disease like diabetic eye changes, glaucoma, cataract, age related macular degeneration and eye infections and inflammations.
With the Eyebetes Foundation he holds 3 Guinness World Records.
More about Doctor Nishant Kumar