A medical check-up conducted for 400 cops at Siddhivinayak temple on the occasion of Ganpati festival has come out with some startling facts: As many as 160 among them, that is a cool 40%, suffer from uncontrolled BP and blood sugar issue. Doctors blame it on an unhealthy lifestyle.
As per the data shared by the doctors who conducted the medical check-up, around 40% of the police personnel have uncontrolled BP and blood sugar and most of them were undiagnosed till then. The policemen underwent screening for diabetes and blood pressure.
"Around 400 cops came to get their sugar and blood level checked. It was alarming that out of approximately 400, 40% have uncontrolled BP and blood sugar. Approximately 40 to 50% of them remain undiagnosed. A lot of them have significant diabetes and hypertension issues. They suffer from these mainly because of their challenging lifestyle. They don't have a proper daily routine, have long working hours, and no enough time to look after their health issues," said Dr Nishant Kumar of Eyebetes Foundation.
As per the counsellor made available at the camp, after the check-up, the cops were made aware of their health issues but many complained they don't get enough time to take care of their health due to work pressure.
Dr Nishant Kumar, said: "Blood sugar level was completely out of range for around 30 to 40% of those who were checked during the medical camp. Especially during the festival time, they have more long duty hours. The policemen who work on the ground have a harder lifestyle. Most of them do not access medical facilities."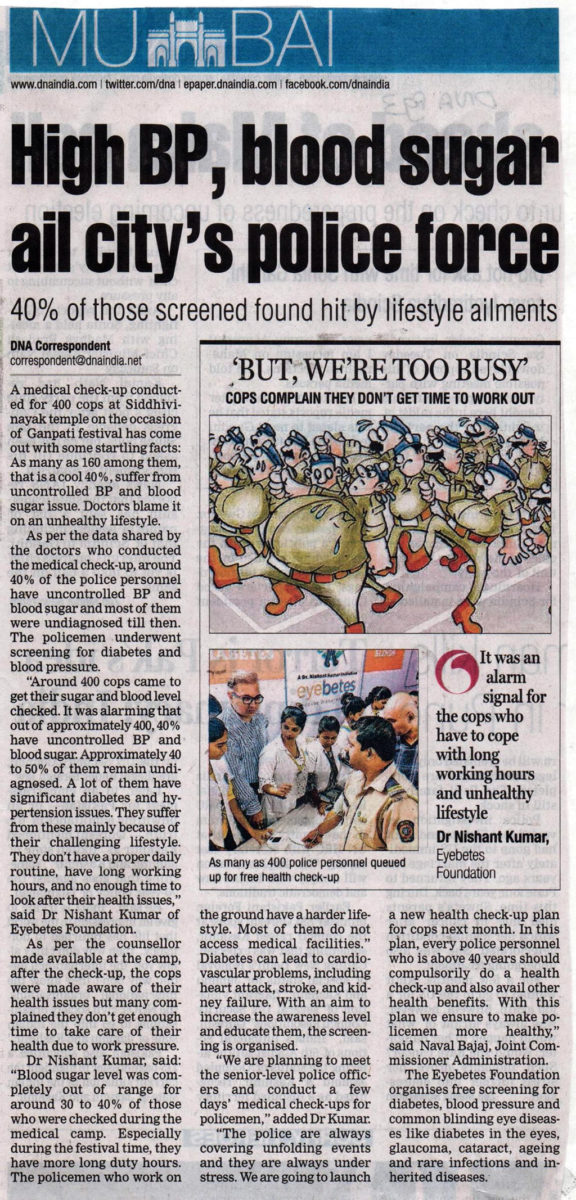 Diabetes can lead to cardiovascular problems, including heart attack, stroke, and kidney failure. With an aim to increase the awareness level and educate them, the screening is organised.
"We are planning to meet the senior-level police officers and conduct a few days' medical check-ups for policemen," added Dr Kumar.
"The police are always covering unfolding events and they are always under stress. We are going to launch a new health check-up plan for cops next month. In this plan, every police personnel who is above 40 years should compulsorily do a health check-up and also avail other health benefits. With this plan we ensure to make policemen more healthy," said Naval Bajaj, Joint Commissioner Administration.
The Eyebetes Foundation organises free screening for diabetes, blood pressure and common blinding eye diseases like diabetes in the eyes, glaucoma, cataract, ageing and rare infections and inherited diseases.
SOURCE: www.dnaindia.com