The ongoing successful campaign, 'Eyebetes' by Dr. Nishant Kumar has already checked more than 12,000 pilgrims visiting Lalbaugcha Raja. The campaign is an initiative by Kumar to spread awareness about diabetic blindness.
This huge project was actively supported by P.D. Hinduja College of Nursing and Tata Institute of Social Sciences (TISS). A vibrant team of nursing students from Hinduja contributed to the campaign by conducting vision tests and providing feedback for the same."These nurses were trained one week prior to the event, so that we can get the best results," said Kumar. Since the camp is functioning 24×7, 20 nurses are deployed to work for morning and evening shifts, both.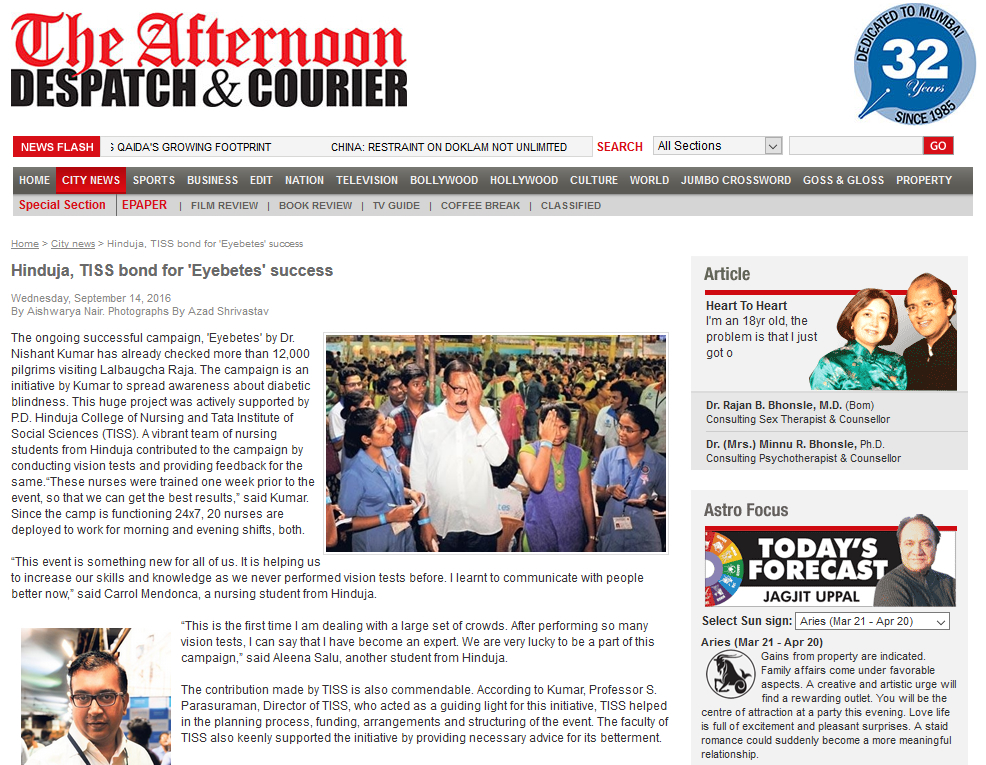 "This event is something new for all of us. It is helping us to increase our skills and knowledge as we never performed vision tests before. I learnt to communicate with people better now," said Carrol Mendonca, a nursing student from Hinduja.
"This is the first time I am dealing with a large set of crowds. After performing so many vision tests, I can say that I have become an expert. We are very lucky to be a part of this campaign," said Aleena Salu, another student from Hinduja.
The contribution made by TISS is also commendable. According to Kumar, Professor S. Parasuraman, Director of TISS, who acted as a guiding light for this initiative, TISS helped in the planning process, funding, arrangements and structuring of the event. The faculty of TISS also keenly supported the initiative by providing necessary advice for its betterment.
SOURCE: http://www.afternoondc.in/city-news/hinduja-tiss-bond-for-eyebetes-success/article_176706