Projects by Eyebetes Movement
Eyebetes Movement works for those who have limited awareness regarding Diabetes and causes of Preventable Blindness and have never been checked for diabetes, visual acuity, prescription glasses or and have never seen an eye doctor to diagnose causes of preventable blindness because of lack of education, knowledge, accessibility to healthcare and affordability issues.
Eyebetes movement concentrates on people living in the slums of Mumbai, surrounding villages and tribal areas and we work closely with frontline junior police personnel who have limited education and access to healthcare facilities.
Our data and other published data demonstrates that in the slums, more than 60% of adults are either undiagnosed pre-diabetic or confirmed diabetics who need treatment.
70% have never worn glasses and need glasses for distance and / or near. 30% and more have early signs of some preventable cause of blindness like glaucoma, aging, diabetes etc which if treated early can prevent blindness.
Eyebetes Projects are broadly categorized into 2 main areas​
1) Eyebetes Projects in the Community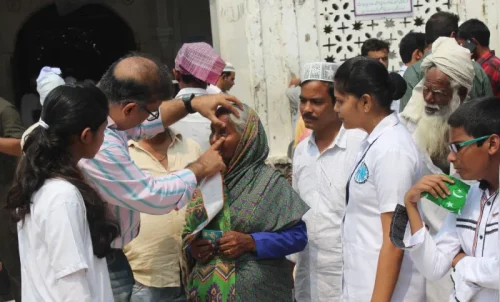 Eyebetes Foundation conducts various Eyebetes projects in the slums, villages and tribal areas across the country. Eyebetes Foundation works with social workers, government agencies and other NGOs to help identify the areas of need whether that is in the slums, villages or tribal areas. Together we identify communities, which will benefit from our charitable work and also try and identify social workers who can help us conduct large scale diabetes projects for these communities.
2) Eyebetes Projects for Frontline Workers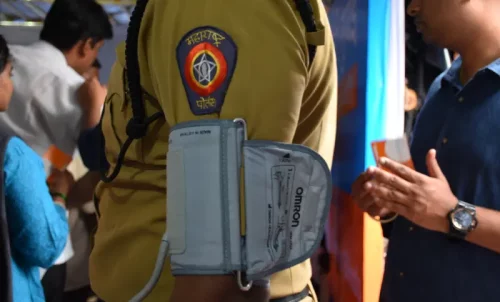 Since 2019, Eyebetes has been working closely with frontline workers, especially the junior police personnel in Mumbai and Maharashtra and other healthcare workers in Mumbai to conduct Eyebetes projects.
Eyebetes Project - The Tests and Services Provided
Random Blood Sugar – by finger prick.
Diabetes Screening – using HbA1c.
Total Lipid Profile – (9 tests related to cholesterol and other lipids).
Habitual Visual Acuity – recorded by optician.
Refraction – conducted by expert optician.
Best Corrected Visual Acuity – for both distance and near.
Eye Screening for Preventable Causes of Blindness – by using non-mydiatric fundus cameras.
Review of All Eye Images – by expert eye doctors remotely.
Dispensing of UV Protection Sunglasses to every beneficiary.
Dispensing of Prescription Glasses – (distance or near or bifocal).
Blood results are sent by WhatsApp as well as courier.
Results of eye screening sent by WhatsApp and courier.
Eyebetes – Our Team for a Project
For every Eyebetes project we need an expert team comprising of:
Trained opticians
Ophthalmic imaging technicians
Blood collection technicians
Expert eye surgeons
Team for people management
Senior supervisors for each part of the project
Volunteers and social workers for awareness initiatives
Counsellors
On average we have a team of 75-90 people on-site during each project and additional 10-15 eye doctors work remotely to review all the eye images and data and provide comprehensive reports.
Eyebetes Projects – Closing the Loop
On completion of the Eyebetes project, all results are shared with the local social worker as well as the local medical heath officer so that people in the community who are responsible for the health of the community know about people who have issues and all activities and finances can be concentrated for these people.
For the Eyebetes projects with frontline workers and Police, all the results are shared with the medical officers in-charge so they can ensure appropriate treatment is started and continued.
Eyebetes Awareness Initiatives
During each Eyebetes project, we have awareness initiatives including door-to-door campaigns, talks and lectures by local social workers who are trained by Eyebetes Foundation as well as playing celebrity videos regarding diabetes and preventable blindness during the Eyebetes project in the community.
We also distribute educational leaflets regarding diabetes and preventable blindness in the local language.